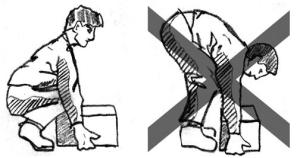 Moving and Handling Training and Advice with Atlas Safety Training
Training Advice and Risk Assessments are provided by Margaret J.Carton R.N. Moving and Handling Specialist.
Margaret J  Carton can be contacted through this website and 0874153091.
Atlas Safety Training courses meet the State requirement  
Manual Handling
Course Background:
Under the Safety, Health and Welfare at Work Act, 2005 and General Application Regulations 2007  and all General Application Regulations, it states that employees must receive manual handling training .This course provides safe manual handling techniques that can greatly reduce the risks involved in heavy lifting. Back injuries caused by incorrect manual handling techniques are one of the most frequent causes of workers compensation claims.
My Manual Handling course is designed to provide participants with the knowledge to conduct all manual handling activities in a manner that will prevent injury. The course deals with informing participants on safe back care ,safe lifting techniques and the consequences of lifting incorrectly, the viewpoint being that if persons understand the consequences of incorrect lifting they will pay more attention to lifting correctly.
Objective: On completion of the course participants will be able to:
Understand the consequences of incorrect lifting
Understand the mechanics of the spine and muscular system
Understand the  principles of safe lifting
Highly participative and interactive course
Course Content:
Legislation
Anatomy and Physiology
Importance of physical fitness
Ergonomics
Hazard Identification
Risk Assessment
Principles of Lifting
Practical : Lifting, Moving, Carrying, Pushing and Pulling 
Up to 15 participants
Training Advice and Risk Assessments are provided by Margaret J.Carton R.N. Moving and Handling Specialist.
Margaret J Carton  can be contacted through this website and 0874153091
Home    About    Occupational Safety    Hospitals    Nursing Homes
Schools         Childcare Facilities and Crèches    Farm and Industry