The Website and Social Media platforms of Atlas Safety Training will be undergoing upgrading shortly to reflect the greater capabilities and constant National and International Demand for the Services of this highly Professional Safety in Health Provider.
 Carrying heavy school bags
Carrying heavy school bags is a massive concern for students and their families. The prevention of back pain and other musculoskeletal injuries is important for students' current well-being and their long-term health.
Students may experience
Fatigue
Muscle strain
Back pain
Distortion of the spine's natural curves
Rounding of the shoulders.
Research shows that, where possible, backpack weights should be less than 10% of the student's body weight. The School and parents should  work together to achieve this goal.
What can we do to reduce the risks?
Reducing the load
Investigate if students can store books at school and only carry home those needed for homework.
If your child insists they need to bring home more books than they can comfortably carry, consult with their teacher.
Regularly clean out the school bag since your child may be storing unneeded items.
Regularly ask your child if their backpack is causing fatigue or pain. If so, lighten the load and adjust the fittings.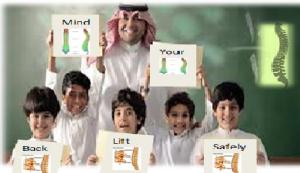 Backpacks
Backpacks, rather than traditional school bags or sports bags with handles, allow the load to be carried more evenly over both shoulders.
The purchase of well-designed back packs and their correct use is an important factor to promote good posture and minimize effort in carrying school bags.
Backpacks with compartments, padded straps, and hip strap assist in distributing the load evenly throughout the bag and on the student's body are best.
Rolling bags with an extendable handle and wheels are an option for students however, these must be lifted up stairs and can cause trip hazards during transit in crowded areas and when left in access ways.
Rolling bags may not be suitable when traversing uneven terrain.
Technology has changed the way students learn and play. Increased use of electronic learning tools does offer future alternatives to heavy textbooks including CD options and web-based information. The negative aspect of increased engagement with technology however is extended computer use and a concurrent increase in sedentary activities. These are common factors in the lives of many children and adults
Keeping active is an important part of forming and maintaining a healthy body for later life
Tips for Selecting a Backpack
Do not try to save money by buying the biggest backpack you can find. Make sure the backpack is appropriate to your child's size
When the shoulder straps are adjusted, the bottom of the backpack should be just above the child's waist. The backpack should not be hanging low over the buttocks
Look for features such as:

Adjustable shoulder straps
Moulded frame and/or adjustable hip strap, so that the weight of the filled backpack will rest on your child's pelvis instead of their shoulders and spine,
Rear of the backpack is padded for comfort,
Separate compartments to help with packing.

Children are fashion conscious and vulnerable to peer pressure.  Your child will need to like the backpack so let them help chose it. This will help their acceptance and improve the chances of your child wearing the backpack appropriately.
If the style you choose is 'uncool', your child may compensate by carrying the backpack in a 'cool' way, such as over one shoulder.
Reminders about Correct Use of a Backpack
When fitted correctly, the backpack should contour snugly to the child's back, rather than hang off their shoulders.
Pack the heaviest items closest to the student's spine this will help with comfort and balancing the load.
Use the backpack's compartments to pack items securely and minimize the load moving around during transit
This keeps the load balanced.
Remind (or help) children to clean out their bag regularly so they are not carrying around unnecessary items.
Remind your child to wear the pack over both shoulders.
When loading a backpack onto the shoulders and unloading a backpack from the shoulders this should be done at bench height whenever possible to avoid twisting the spine.
Warning signs that a backpack is too heavy include
A change in posture when wearing the pack;
Struggling when putting on or removing the pack;
Pain when wearing the pack;
Tingling or numbness in arms;
Red marks on shoulders
Moving and Handling Training and Advice with Atlas Safety Training
Training Advice and Risk Assessments are provided by Margaret J.Carton R.N. Moving and Handling Specialist.
Margaret J  Carton can be contacted through this website  and 0874153091.
Atlas Safety Training courses meet the State requirement  
Under the Safety, Health and Welfare at Work Act, 2005 and General Application Regulations 2007  and all General Application Regulations it states that all employees in all industries must carry out manual handling training. This course provides safe manual handling techniques that can greatly reduce the risks involved in heavy lifting. Back injuries caused by incorrect manual handling techniques are one of the most frequent causes of workers compensation claims. 
Safe pupil handling and safe manual handling techniques can greatly reduce the risks involved in heavy lifting.
About my Manual Handling Course and Backcare Health and Safety Training
Participants who have completed my course will be able to assess a load, which is heavy or awkward and choose the safest method of dealing with it.  Understand the limitations of the spine and muscular system. Lift and handle loads safely (both inanimate and animate). Carry out risk assessments in the work place.
Course Content:
Legislation
Dangers of unsafe lifting
Overview of safety legislation
Anatomy of the spine and muscular system
Safe lifting points
Injuries associated with manual handling
Importance of exercise and nutrition
Competence testing
Dangers of careless and unskilled methods
Principles of levers and laws of motion
Anatomy of the spine and muscular system
Potential harm through incorrect pupil handling techniques
Importance of physical fitness
Personal protective equipment
Relevant handling aids and techniques
Normal body movement
Learning Outcomes:
Upon successful completion of this course participants will gain the skills and knowledge necessary to:
Recognise a load which is too heavy or awkward
Explain their legal rights and responsibilities
Understand the limitations of the spine and muscular system
Conduct a pupil animate/inanimate risk assessment
Lift and handle pupils safely
Understand correct lifting techniques
My Course is Designed For:
All staff that engage in manual handling and pupil handling activities during their working day. Those employees who are exposed to situations where the risks cannot be eliminated or reduced sufficiently.
Training Methodology:
My course complies with the HSA guidelines and is highly interactive with role-playing and practical exercises to reinforce understanding and learning.
Participants should wear comfortable clothing for practical activities.
Participants:
A maximum of 12 per course minimum 3 per course
Certification:
Upon successful completion of this course participants will receive a certificate in manual handling and safe pupil handling.
Lifting children safely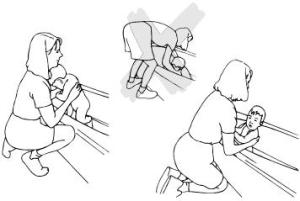 PICKING UP A CHILD FROM THE FLOOR:
Squat down to pick up the baby/child, and bring the child close to you before standing up. If you are not able to squat down, then you can do a semi-squat.
Maintain the natural curves in your back at ALL times.
CHILD IN/OUT OF AREA ON GROUND LEVEL:
Squat or kneel down close to the edge of the area to lower the child or to lift the child.
Maintain the natural curves in your back at ALL times.
CHILD IN/OUT OF CAR:
Stand close and keep your back straight. Bend your knees to put the child in or out of car seat.
Maintain the natural curves in your back at ALL times.
CARRYING A CHILD:
Keep the child close to you, and be as upright as possible. Try to avoid leaning to one side, and try to keep the child centred when holding them.
Maintain the natural curves in your back at ALL times.
Useful Links
The Scottish Government in conjunction with Capability Scotland jointly produced an excellent Guide in 2012  for workers and employers who work  with children and young people with moving and handling needs.
In addition the Sydney Children's Hospital have a useful Factsheet entitled 'Looking after your Back:  Backcare for Parents' which I suggest you read as a useful guideline.
Training Advice and Risk Assessments are provided by Margaret J.Carton R.N. Moving and Handling Specialist.
Margaret J  Carton can be contacted through this website and 0874153091.
Home    About    Occupational Safety    Hospitals    Nursing Homes
Childcare Facilities and Crèches    Farm and Industry     Industrial Safety